Nesting box for the tawny owl
28 November 2019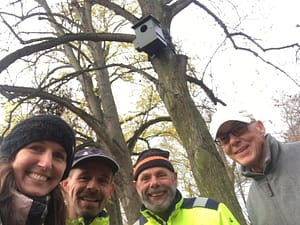 Natural peeping has been extended with a nesting box for the tawny owl. The municipality of Maastricht has used an aerial work platform to hang this large hive at a good height (at least 4 metres). Thank you very much!
Nowadays, many city parks or cemeteries are home to a tawny owl. Wherever there are old trees, a tawny owl can take up residence. Even in gardens with old trees it can start breeding.
The ominous sounding eagle owl on Tapijn in Maastricht has been heard several times already. And in 2019, a young tawny owl was heard in a garden nearby!
You don't get to see the Tawny Owl very quickly, because it is active at night. That's why we have to pay attention to other tracks, such as fallow balls or feathers. But his characteristic call in the night is the most revealing of his presence. You can hear his call mostly from December on. In February, sometimes the first eggs can already lay in the nest. When the eggs have hatched, the male first flies in and out with prey, later they fly together. From the young you can clearly hear the begging for food.
If you have seen or heard a tawny owl in the surroundings of Tapijn, we would love to hear about it! We are very curious whether this beautiful owl will find this cupboard and maybe use it next spring. And if not, maybe the following years.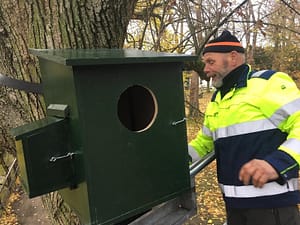 The tawny owl has also been heard or seen in recent years on the Pietersberg, Cannerberg and the cemetery on the Tongerseweg. If you live in a wooded area and have a tall tree in the garden, you can also hang a tawny owl nest box.
For Nature peeping there are placed two more nesting boxes with the aerial work platform; for the great spotted woodpecker and the great tit. In the near future, a number of hives will be connected to a webcam. So that we can hopefully follow one or more Maastricht breeding birds with a webcam in the spring of 2020.
Back to all news